---
What The Office Management Department Offers
Vision of the Department
To become a globally acknowledged Centre for Creative Learning and Skill development.
Genesis of the Department
The Department of Office Management was started as a restructured Course in 1984 with an objective of 'making the students employable'. It was an Ancillary Course in combination with Psychology and English Literature as a Major. In 1987 when the College was conferred Autonomy by the UGC, it became one of the Core Major Departments with Psychology and English Language and Literature. Since then the department has grown from strength to strength evolving as an important platform for personal and professional development for the Faculty and students. The USP of the Department is the all round development of the students in every facet of personal and career domain.
Curriculum Overview
The Department has been pervasively and proactively participative in offering New and Innovative Courses under its umbrella as detailed below:
Core Major Papers
Principles of Management
Office Administration
Business Accounting and Statistics (including Tally)
Computer Applications in Office Management I
Computer (Multimedia) Applications in Office Management II
Company Secretarial Practice
Advertising Management
Interdepartmental Core Special Electives
Managerial Skills
Web Advertising
Interdisciplinary Electives
Event Management
Gender Studies
---
Certificate Courses
Certificate Course in Stenography
Certificate Course in Music (shortly starting)
Common Teaching Methods: The Department has usedhighly student centric teaching learning techniques for everyday classroom teaching learning which are common for different Papers like
Interactive Lecture
Brainstorming,
Case study & Case Law
Role Plays
Power Point Presentations  (Individual & Team) by Faculty and Students

Problem Solving exercises
Management games
Group discussions & Focussed Group discussions
Industrial visits
Minor Projects
For the Core Special Elective, Managerial Skills - innovative activity based exercises are used for the various modules like
Rapid Reading
Group think
Team Building Exercises
Synergistic exercises
Mind mapping,
Listening/Learning Exercises

Leadership games
Broken Squares
Model meetings, 
Prisoner's dilemma
Desert Survival Experiment
Cave Rescue among others.
Innovative Learning techniques: The Department has instilled in the students interest and love for the Subject through innovative learning techniques and experimenting on many 'out of the box' ideas:
Reverse Brainstorming
Peer Instruction
Study an office for special aspects
Designer Ad Portfolio - The learning method has received excellent feedback as it brings to light the students' innate creativity, unique expression, and the art of communicating it with their class
DO IT - This method has proved to be excellent in Research Project Work and  other innovative projects like Designing an ad in a group, physically/system based and presentations, where the results always had the 'We did it' elation among the students.
Highlights of the Department
Innovative teaching learning techniques leading to multifaceted development to handle life's challenges.
Enthusiastic and student welfare oriented faculty who maintain close rapport with the students.
Highly motivated and willing-to-learn students
The department has built a positive brand image in and outside the college.
Major Research based Project work by the students which equip them with good independent research skills for their PG programs.        
The unique feature of the Course offered since the past Two decades and a half is the compulsory job component through a One Month Summer Placement or Internship in an organization for 'hands on training'. The Department was one of the first Departments in the College and in the city to include it as a mandatory part of the curriculum as other departments and colleges have started. This has resulted in empowering our students with efficient 'work skills' and other qualities to pursue careers successfully. Our students have almost 100 per cent placement in campus interviews in the BPO industry, Insurance and Banking sectors and others.
Alumnae of this program vouch "It is the training we received through the innovative techniques and tapping of our creative potential & abilities that has made us so confident and stand out wherever we are and whatever we do, Josephines of the Office Management department!"
Student Project Work
It is mandatory for all the students to do a Major Research Project (Interdisciplinary or otherwise) as part of the Curriculum. 90% of students have done Inquiry based Projects while 10 percent of students collaborate with industries / institutes. Around 140 Inquiry based research projects have been undertaken by the Students during 2008 – 2013 out of which a sample number of Projects are given here:
---
2008-2009
How recession has affected Consumer spending
The money spending habits of teenagers
Study on the effect of advertising strategies relating to mind therapy techniques and client  satisfaction in Visakhapatnam.
The influence of Hindi serials/soaps on the perceptions and relationships of women.
Increase in news channels in television vis-à-vis the readership of the Newspapers-An impact study
2009-2010
Cricket-the unofficial national game of India, impacts the minds of most Indians emotionally and    sport wise'
The use of children in ads makes children persuade their parents to buy the product.
The role played by GVMC in achieving the vision of 'Clean Visakha and Green Visakha' – an       attitudinal   study.
'How Women Manage Multiple Roles So Well' - A Perspective study
The impact of marriage on women's independence, decision making and  life as a whole  
---
2010- 2011
The impact of superstitious beliefs on people's mindset and happiness
Whether the manufacturing of eco-friendly products is helpful in protecting the environment
Reading habits of people and their impact on thinking and behavior
An attitudinal survey on the female students' interests and preferences for a rewarding career in the Defence Services
---
2011 - 2012
Impact of studying in missionary institutions
Role of religion in propagating separatism and violence
Factors Including in choosing a Career: Family Traditions, Financial Influences.
Dependence of parents on school tuitions or study hours for better study habits and performance of their children
An assessment of the relationship in terms of communication and understanding between married couples
2012 - 2013 
Effect of Regimental style of functioning and assessment system on the students' desire to excel in Corporate Colleges
The inter relationship between father and daughter
The impact of Leadership effectiveness of a Principal on teacher commitment
The nurturing influence of a mentor – mother or teacher on students
The impact of Inter caste and Inter religious marriages on family values
---
Outstanding Creative Initiatives of the Department
---
1. BOOKMUNCH - Why & How? 
The STULIB (Student Library) was started in 2009 to create more awareness among students about books and their impact on our personality and life. Being a book lover the number of books that were in the personal library of the Faculty were compiled to create STULIB in the Department of Office Management, St. Joseph's College for Women (Autonomous) with around 383 books originally. Outstanding features of STULIB are
It is managed by the students (regular issue) 
There is a Stock register which contains the inventory of books
There is a Book Forum where students discuss books
With a minimum contribution, even magazines are shared and discussed
It motivates students to read more books
Seeing the success of STULIB which  motivated students of the BA department and others from other departments to read more books and expand their horizons of thinking and learning, the Department of Office Management decided to launch the Reading Arm of STULIB to others in a big way through BOOKMUNCH – the Book Club for the students and Faculty of the whole college.
Motto of Bookmunch: READ. Read. Explore. Aspire. Develop!
Objectives of Bookmunch:
To create a forum for critical thinking through reading.
To motivate college students to read more books, enhance their vocabulary and improve their communication skills.
To make the students realize the impact of reading on their success in jobs and life.
Activities of Bookmunch
Book forum for discussion on books
Book reviewer - The Book review competition
Magtag - the Magazine reading habit and quoting.
Bookmark - Award for the Best Reader
Bookrec - Recommend/Share your book and get Impact Factor Award for  recommending your book.
---
PANORAMA : the Creative Canvass 
The Department has always encouraged and inspired the students to express their creative talent through various innovative ideas like Designer Ad portfolio, Ad presentation and so on. Yet the students were very eager to showcase their creative abilities of writing, sketching and painting in a magazine. Thus PANORAMA was born in February 2013 with a good response from the young writers and artists with a promise to make it better the next year.
AWARDS & CERTIFICATES
The Department has over the years motivated and exhorted the students to greater heights of performance and excellence through instituting Awards in recognition of scholastic and non scholastic attributes and achievements. Every year the students from all the three years receive Awards and Prizes for various academic and co-curricular achievements. Specially designed Certificates are awarded to the young women:
1. Award for Outstanding Academic Excellence
---
---
3. Award for Perfect Responsibility
---
4. Award for Outstanding Leadership
5. Outstanding Artist Award
---
---
7. The Learning Curve In Om In 2015-16
---
8. Appreciation Certificates For 2015-16
4. Learning Workshops for the students
Workshop on 'Creativity - how to tap it'
Workshop on Successful Presentations  
PowerPoint Presentations for Professionalism
Creative PowerPoint Presentations
Workshop on 'How to design an Ad"
5. Career & Leadership Workshops for the students
These Workshops create awareness and train them in specific soft and career skills to perform well in On Campus and Outside the Campus recruitment drives.
6. Students' feedback of their own learning in the department
The students being actively involved in all the innovative and creative methods of learning, opine that learning is fun.....learning is great....and learning to learn is an explorative process.....
---
Academic Expertise Offered By The Department
The department has designed a number of Interdisciplinary courses like Communication Skills, Event Management, Copy Writing and Editing, Technical Writing, Gender Studies in addition to the curriculum of Management Studies and Commerce.
Workshops Organised By The Department For Faculty
Two Day Institutional Development Workshop in "Forging a New Future', October 2012 (College funded) - Faculty, Non Teaching and Ministerial Staff
One Day UGC Sponsored Regional Workshop on 'Empowering Fresh Faculty in Higher Education Institutions to gain efficiency' (with Home Science Dept) 24th August 2012 (UGC) – Fresh faculty of Colleges.
Two Day UGC National Conference "Effective Facilitation Skills for Teachers in Higher Education" (with Home Science dept)  St. Joseph's college for Women (A), Visakhapatnam, 17th-18th Feb.' 2012
Two Day Workshop on "Ethical hacking – its implications' in collaboration with CISS, November 2011 (CISS)-Staff and Students, SJC
Five Day UGC Sponsored SAM (Sensitivity, Awareness, Motivation) Workshop under the 'Capacity Building for Women Managers In Higher Education' Scheme, 23 – 27 November 2010 (UGC) – Lecturers from Visakhapatnam, Vizianagaram, Srikakulam and East Godavari
One Day UGC Sponsored Workshop on 'Capacity Building for Enhanced Office Efficiency', February 2010 (UGC) -  Administrative employees in Higher Education Institutions
One day UGC Sponsored Regional Workshop on "Women in Science" August 2008 (with Dept of French)
---
Resource Speaker and Trainer
Chief Guest & Speaker,  Adarsh Talent School, Visakhapatnam, August, 2008.
Keynote  Speaker, Workshop on 'Challenges and Problems of Career Women' Ambedkar Institute of Management Studies, Visakhapatnam, September, 2008.
Chief Guest and Keynote Speaker, St. Mary's Centenary College of Education, Visakhapatnam, Teacher's Day Celebrations, September 2008.
Facilitator Trainer, 'UGC Capacity Building for Women Managers in Higher Education – SAM (Sensitivity, Awareness and Motivation) Workshop, on -

'Women Studies Perspectives
Dr. Durgabai Deshmukh Centre for Women's Studies, AU, Nov 2008.
SV University, Tirupati, October 2009
'Women and Academic Leadership',
Dr. Durgabai Deshmukh Centre for Women's Studies, AU, Nov 2008.
SV University, Tirupati, October 2009
Government Women's College, Guntur, January 2011
Y.N College (Autonomous), Narsapur, 7th July 2011.
'Team Building and Decision Making',
Kurukshetra University, Kurukshetra, March 2012
PSG Krishnammal College for Women, Coimbatore July 2012
DAV College, Chandigarh, November 2012
'Human Resource Development', Guwahati University, Guwahati,    
July 2011

Facilitator Trainer, GMCS (General Management and Communication Skills) for Chartered Accountants, ICAI, Visakhapatnam, in December 2008,  February 2009, February 2010
Motivational Speaker, 'Why women should be Entrepreneurs?', Women Entrepreneurship Development Programme, Dr. Durgabai Deshmukh Centre for Women's Studies, Andhra University, April  2009.
Resource Speaker, 'Stress Management techniques', Kendriya Vidyalaya Southern Region PG  Teachers Refresher Course, June 2009
Facilitator Trainer, 'Women and Gender Convergence' as part of Gender Sensitivity Program, Executives and Non-Executives, Visakhapatnam Steel Plant, 18 -19 November 2009
Member, Panel of Judges, GITAM University, Young Managers Award, November 2009
Visiting Faculty, 'Women and Human Resource Management',  MS Women's Studies, SV University, Tirupati, March 2010
Resource Speaker, 'Effective Managerial Skills for Women' Seminar on 'Women development in the 21st century, Women's Studies Centre, SV University, Tirupati, March 2010
Best Practices in Management atSt. Joseph's College for Women (A), Visakhapatnam, Department of Women Studies, S.V.University, Tirupathi, 24th Nov.'11
Resource Speaker, 'The Leader in me', NCC Cadets at NCC NAMAK Camp, Visakhapatnam, July 2012
Resource Speaker, 'Professionalism in Teaching, Learning and Evaluation', with Dr. Suguna Kannan, Educational Consultant, NAAC sponsored Seminar on 'Quality Consciousness: A paradigm shift in Higher Learning Government Institutions of Andhra Pradesh', Dr. V.S. Krishna Govt. College (A), Visakhapatnam, 22nd – 23rd, March 2013.
---
Significant honors for Resource Speakership
The Department Faculty has delivered more than 80 Lectures and conducted training programs for varied groups of people since past ten years. 
Invited by Singapore Management University (SMU), Singapore as an International Plenary Speaker for
Three day Conference in 'Partnerships, Paradigms and Possibilities for Networking among women' in           the Wee Kim Wee Centre for Diversity Education, SMU in February 2013.
Nominated Trainer Associate for UGC Capacity Building for Women Managers in Higher Education Scheme -
Management Skills Enhanced Module (MSEM) – HRD, Team Building and Decision Making throughout        the  country, since 2011
SAM (Sensitivity Awareness Motivation) since 2008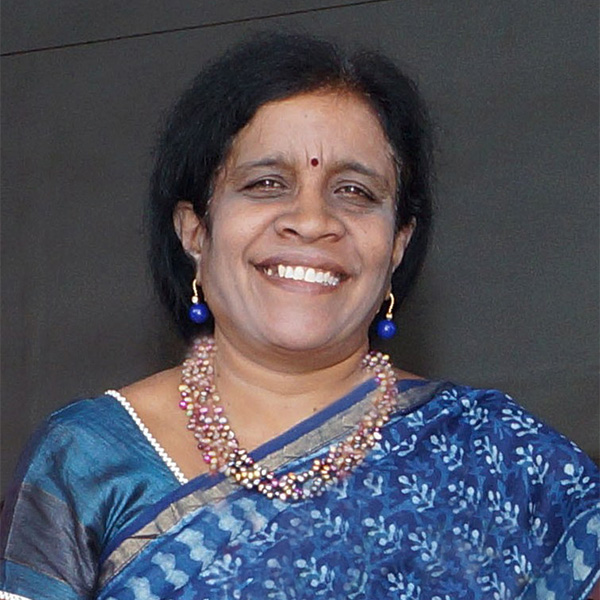 D. Ramani
Mcom(Phd)
Head of the Department
---