---
What is Home science?
Home science is an inter-disciplinary field of study comprising Human Development, Foods & Nutrition, Resource Management, Textiles & Clothing as also Extension and Communication. Each of these subject areas is also multi-disciplinary in nature dealing with arts and science of living. The foci of Home science are the individual, the family and the community.
---
Human Development explains human development across lifespan with specific areas of Early Childhood Education, Family Life Education, Gender sensitization, Child Welfare and so on.
Foods and Nutrition ranging in scope from alleviation of malnutrition from micro to macro level also encompasses preventive, promotive and therapeutic uses of food in managing health of individual and feeding in hospitals and food services.
---
Textiles and Clothing is both family and industry oriented in today's market economy with an entrepreneurial base. India as one of the foremost garment exporters and a huge domestic market provides ample scope for academic development and commercial applications.
---
Resource Management contributes to the development individuals with managerial skill to manage both human as well as non-human resources so necessary for our country.
Extension & Communication helps the homescientists in taking knowledge from lab to home.
---
The Homescience discipline provides an integrated body of knowledge from Social, Biological and Physical Science, Technology and Management all interwoven together to enhance the quality of life.
The Department of Home Science - Looking back
Domestic Science Department as it was called initially was the bait that the Sisters of St. Joseph's of Annecy held out to entice the conservative parents, of the then Vizagapatam, to enroll their daughters in the newly established college for Women in 1958. Under the guidance of Mother Aloysius, the first Head, the fledgling Department had 28 students – the total strength of the College then. Sr. Fernande Marie who joined her later helped to pioneer the Undergraduate program the first of its kind in Andhra University.  
This syllabus became the model curriculum for the B.Sc Homescience programs in other College in Andhra Pradesh as also the neighbouring state of Orissa. The pioneering sisters emphasized the household arts and the importance of being a homemaker in keeping with the needs of the time but unfortunately the misconceptions regarding Homescience as a program of "cooking and stitching" deterred many young women from joining the Department in the 1970s and the admissions started dwindling.
The end of 1970s saw the winds of change sweep through the department. The curriculum was modified to  develop young women into multifaceted professional homemakers who could handle the pressures of home and career with ease. The new generation of Homescience faculty lead by the  Dr.A.Vijayalakshmi (one of the first few doctorates in A.P) emphasized the scientific principles underlying Homemaking and students were once again drawn by the seduction of  the dynamic and challenging field which opened so many venues of career while preparing them for their role of lifetime. Autonomy conferred on the College was utilized by the subsequent heads to utilize every opportunity provided by the College and other Authorities to develop the Department into a vibrant force. The Department has participated actively in COSSIP, UGC Extension Program, Janmabhoomi organized by the A.P, empowering ICDS workers and others.
Curriculum Map
Core Courses
I  Human Development
II  Foods, Nutrition & Dietetics
Psychology
Psychology
Pre & Post Natal Development
Food Science
Life Span Development – I & II
Human Nutrition
Early Childhood Education
Family & Community Nutrition
Child Welfare
Dietetic
III Resource Management
Family Housing
Textile Science 
Communication in Homescience
Management Principles
Textile Design
Hygiene & Health Education
Interior Design
Apparel Design
Family Economic
 
IV Computer Applications in Homescience I & II
Core Electives
Biochemistry /    Historic Costume & Fashion designing
Food Service Management /Sociology / Creative Crafts /  Major Project*
Entrepreneurship Devpt./ Fundamentals of Baking & Confectionery (Practical)

* Major Project Work in the Department is an Optional offered only to Advancedlearners (decided by the students' performance in the I – IV Semester exams) and is offered as an alternative to a paper.
Inter Disciplinary Electives 
Thread craft
Embroidery
Baking & confectionary
Clothing Construction

Nutrition for Better Living
General Homescience
Basic Nutrition 
Sports Nutrition
---
Salient Features of the Course
Only students with a Life science background are eligible for admission
Provision for specialization in Foods & Nutrition or Resource Management
Four- semester course with four theory and two practical papers in each semester.
Syllabus  based on UGC model Curriculum
Programme includes papers on Computer Applications and Entrepreneurship Management
Internship is a compulsory component of  the course
Student will be required to submit a research based thesis as part of the course
Teaching Learning Evaluation – Methods, Activities and Innovation
ICT based using Ppt., OHP and Posters- Physiology / Microbiology/ Biochemistry/Family and community nutrition/ Textile design/ Interior design
Participation programme - Early Childhood Education
Slides, Videos, Posters- Human nutrition / Historic costumes and fashion
Field Visits– All subjects
On-Job Training during IV-V semester vacation in relevant areas of their choice and Co-curricular Training Modules  inFood Preservation, Sketching
Highlights of the department
Fully equipped laboratories
Multi-faceted  development of students
Alumnae well placed in various fields
Course prepares individuals to face challenges life long
Department enjoys good reputation inside and outside the country
---
Research Activities of the Department
Project for CRY (Child Rights and You) under  National Child Rights Research Fellowships   Story      Telling -  Prevalence And Practices  in Visakhapatnam city- Dr.P.SAnnapurna  in collaboration with  Dr. Suguna Kannan -2009-11  (Rs. 96,000 grant)
Collaboration with Anthropological Survey of India Study of  Bio-Cultural Risk Factor Assessment for  Diabetes: Consortium for the Family Studies of Genetics of Type 2 Diabetes in India (2010 ongoing)

Principal Investigator – Nutrition Component - Dr. M. Saileela, H.O.D

Capacity Building Program on Street Foods Project: Completed in 2009.  World Bank funded  project in collaboration with Ministry of Health and Family Welfare , GB Pant University & 15 other Homescience Colleges from all over the country in 2005. (Total grants received Rs 10, 07,000)
Principal Investigator – Dr. M. Saileela, Head, Dept of Home Science
Co-investigators - Dr. Y.Lakshmi Prabha & Dr. Suguna Kannan
Workshops for Faculty, Students, Others organized by the Department
One Day UGC Sponsored Regional Workshop on 'Empowering Fresh Faculty in Higher Education Institutions to gain Efficiency' 24th  August 2012
Two Day UGC National Conference "Effective Facilitation Skills for Teachers in Higher Education". St.Joseph's college for Women (A), Visakhapatnam, 17th-18th Feb.' 2012
One day Regional workshop on English Communication Skills for Teachers of AU English Medium School, St.Joseph's college for Women (A), Visakhapatnam, 13th Feb.,2012. – College Funded
Colloquium on "Teaching English in Technology Society : Challenges", 29th Sept.'2010 - College Funded
UGC certificate course "Human Rights and Values in Education"-Workshop on "Family Values for Healthy Living", 7th and 21st February 2009, for II degree students
Two – day, "Leadership Training Camp for College students", sponsored by Nicholas Piramal India Ltd., 24th & 25th September, 2008. Funded by Forum for Free   Enterprise of M.R.Pai Foundation, Mumbai
---
Faculty Achievements
Dr. M. Saileela– Reader & Head of the Department of Home Science
Felicitated by Green Vision, an NGO at 20th Anniversary Function, 2009, for the technical support and services rendered as CAB Member
Elected Vice President, Consumer Protection Council, Visakhapatnam for her outstanding contribution to enhancing consumer awareness among the public, 2012.
Elected Member, Community Advisory Board of CARE-YG      International, Chennai and Population Services International
Best paper presentation on (30 Oct. -1 Nov, 2011) – "An Exclusive Ministry for Nutrition is the need of the hour in India", Conference on Sustainable development – a Collective Vision, organised by Institute of Home Economics, New Delhi.
Dr. Y. Lakshmi Prabha – Department of Home ScienceAwarded Best Research Paper in Social
Stream in 'Amrita International Conference on Women in Computers' organised by Amrita Institute of Technology,  Coimbatore, January 2013.
Dr. P.S. Annapurna – Former Head of Department of Home Science Best Researcher Biennial 
Award jointly endowed by Prof. Koneru Ramakrishna  Rao & Dr. J. B. Rhine, for her Doctoral thesis 'Clothing attitudes: Social Psychological Perspectives' during the 77th Convocation of Andhra University, VSKP in  2009.
Dr. W.Rupa - Fashion Technology : Textbook for the B.Sc Course ; published by Sikkim Manipal  University   I Edn, 2009 and II Edn in 2010
Dr. Suguna Kannan - received the Andhra Pradesh Best Teacher Award 2004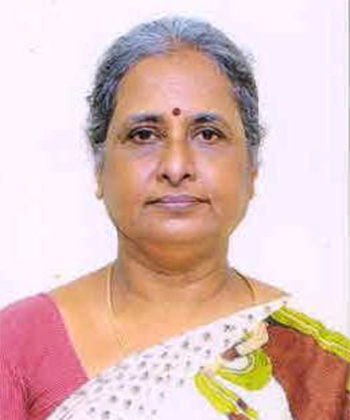 Dr. M. SAILEELA
Head of the Department
---