---
Department of Zoology was one of the few departments to be started at the inception of the College. The first Head of the Department was Ms. Pamela Anderson. This department along with the Botany department was one of the star attractions of the College contributing to several generations of lady doctors in not only Visakhapatnam but also the whole The Department offers Zoology for the Intermediate and the Degree courses.
The Undergraduate program is modelled on the UGC recommended curriculum and has several special features.
Core Areas
Animal Diversity-I
Animal diversity-II
Animal diversity-III
Animal diversity-IV

Entomology/ CP
Fisheries
Genetics & Ecology
Anl. Physio. & Anl.Behaviour
Inter Disciplinary Electives
Human Genetics & its Applications
Human Health Care (2013 – 2014)
 Teaching Methods Adopted 
Lecture Method, Lecture and demonstration method, informally in the library, field visits (on the spot study), seminars, group discussions, quiz, audio-visual aids(charts, slides flash cards, ppt), mini projects, exhibitions or displays, guest lectures and assignments.
Faculty Achievements
External  Academic Forums
Ms. Lily Cooper (Zoology)
APSCHE "Train the Trainer" Program in Environmental Studies AcademicStaff College, Andhra University, August 2008.
Internal Academic Forums
Ms Lilly Cooper & Ms. Suman Yadav  participated in
UGC Regional Conference on "Women in Science", St. Joseph's College for Women (Autonomous), Visakhapatnam, 1st August 2008.
UGC-National Workshop on "Sustainable Development: Rethinking Environmental Initiatives", St. Joseph's College for Women (Autonomous), 1st and 2nd September 2008
Ms. Lilly Cooper, K. Yamini Prasanthi & A.S. Priyadarsini participated in
Two day Workshop on Institutional Development 'Forging a New Future through Appreciative Enquiry', St. Joseph's College for Women (Autonomous) Visakhapatnam, 11 & 12 October 2012.
Two day UGC sponsored National Conference on 'Twenty five years of Autonomy: Experiences, Reality and Vision', St. Joseph's College for Women (Autonomous) Visakhapatnam, 1st  & 2nd February, 2013
Empowerment of Fresh Faculty to gain Efficiency in Teaching,Visakhapatnam, 25th August 2012
Effective Facilitation Skills for Teachers in Higher Education- Two day UGC sponsored National Conference, 17th & 18th Febuary 2012
Departmental Activities -2014 to 2015
Continuation of CBCS system, Introduced WILD LIFE: CONSERVATION, DIVERSITY AND MANAGEMENT as the core elective in semester V.
A Rally on world environment day 5th June 2014 from college campus to Gnanapuram junction and formation of human chain by the staff and students of SJC.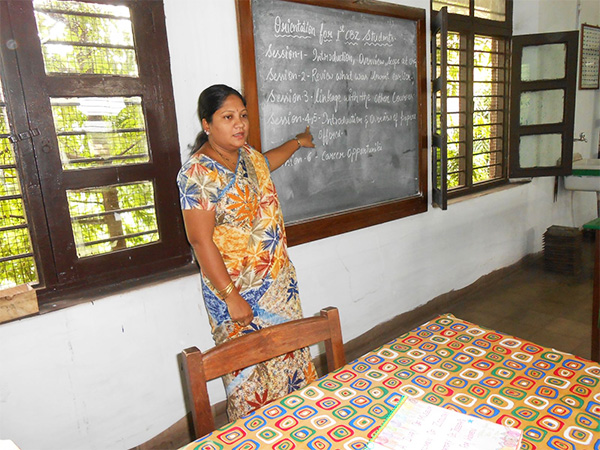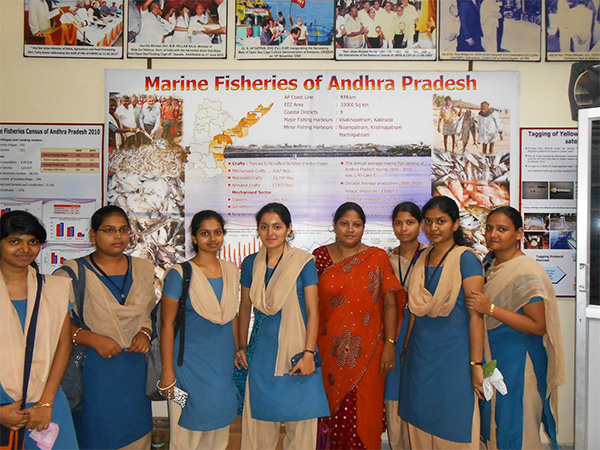 ---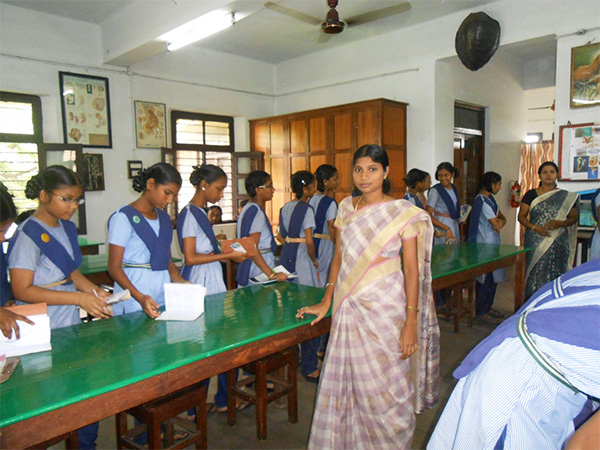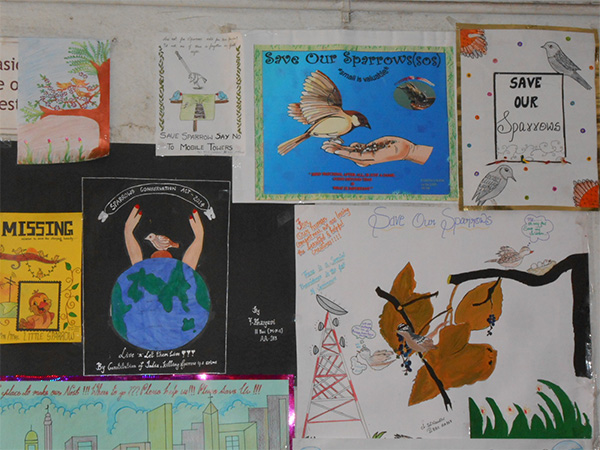 ---
Summer Projects for final degree students and minor projects for first and second degree students to enhance their learning skills.
SLAP (Street Level Awareness Programme) conducted by staff and students of department of zoology as an extension programme.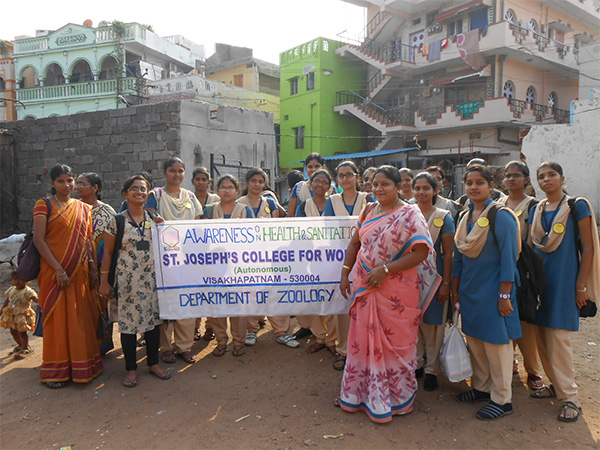 ---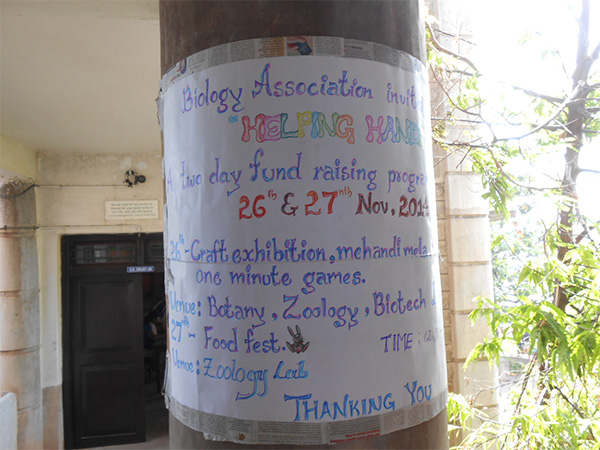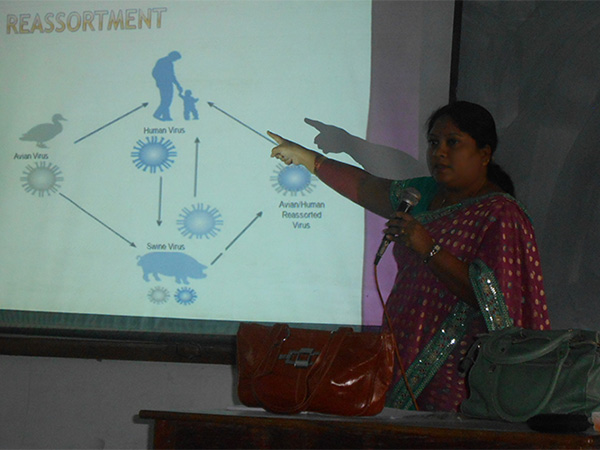 ---
GUEST LECTURE: Lecture by Anupama Singh and DR. Sudha Padmasree.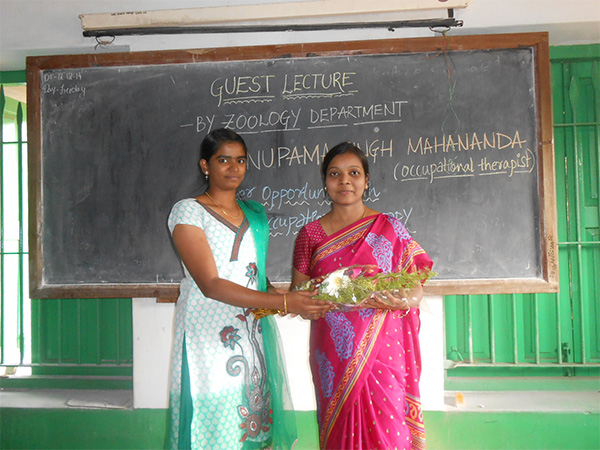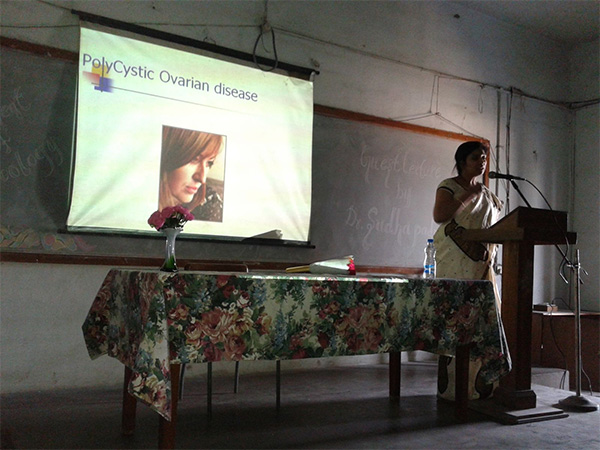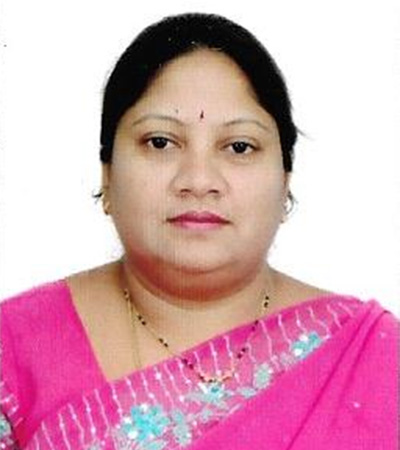 Mrs. E.Harini
Head of the Department
---