Hindi language is also known as Hindi-Urdu or Hindustani. Hindi as a language traces its origin to the Indo-European language family of languages. The closest language to Hindi can be considered Arabic. The importance of learning Hindi cannot be over emphasized since it is considered to be the Rashtra Bhasha - the national and official language of India. It serves as the link language and knowledge of Hindi will go  a long way in promoting National Integration. In India, knowledge of HIndi is useful for entry into various Centrral Government jobs and to move freely within the country either for pleasure or profession. Worl wide Hindi language is the second most spoken language in the world after Mandarin Chinese. It's estimated that nearly half a billion people worldwide speak this wonderful language.
Undergraduate Course for Hindi, as second language has been framed to cater both to the literary aspect as well as the Functional aspect especially due to its being a National Language. The unique features of the course include the introduction of grammar topics to strengthen the language and literary appreciation. Functional Hindi with special reference to administrative and banking terms and the study of a novel have been introduced. The textbooks are changed once in three years. The teaching-learning method aims at the development of communication skills and awareness about the recent trends in Hindi literature and includes Lecture method,  Interactive method, Role-play, Assignment and Discussion methods.
Student Enrichment Programs
Organizing special lectures by eminent scholars of Hindi  inregular intervals on various trends and aspects of Hindi literature and job prospects of Official language.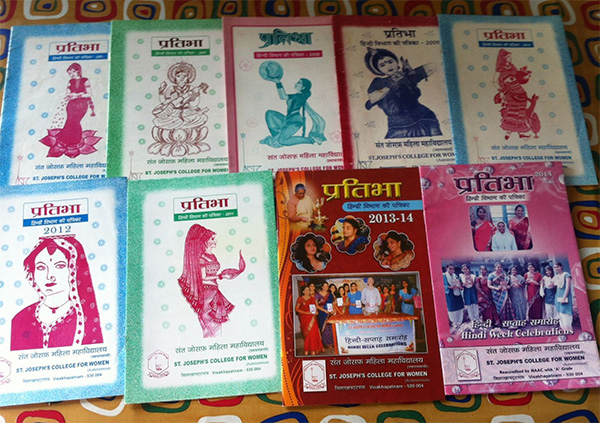 Hindi Saptah is celebrated every year in September to coincide with the Hindi Fortnight since Hindi is the Rajbhasha of India, with a plethora of activities like Extempore, Solo singing, Slogan Writing on Golden Jubilee, Essay Writing on challenges of Teaching & Learning Hindi in South, Doha Antakshari, Commedy Skits, Shayari, Patriotic Skits and Dances, Creative Writing – Golden Jubilee (SJC) Elocution on suicidal tendencies in youth, Dialogue Writing, Group Discussion –Contemporary issues & Quizzes. The students participate with enthusiasm, vigour and excitement.
Hindi Day Celebrations every year is an occasion to invite a prominent Hindi professional as Chief Guest who distributes prizes to the winners of the various competitions and releases the Annual magazine 'PRATIBHA' (published since 10 years). The magazine is a good platform to tap  the latent creative potential in the students and express them.
 Rangarang Youth programmes have been coordinated  during  Aug 2008, Feb 2009 and Feb 2011 with enthusiastic participation from the students in the Department.
 Organized a two day UGC National Workshop in Hindi on "Teaching- Learning Hindi in South  India:  Problems and Perspectives" in collobaration with Dakshin Bharateeya Rajabhasha Samsthan  in January, 2011. More than 70 participants from various Colleges/Universities of South India attended and presented articles/papers on thetopic A   Souvenir was also released on  the above occasion. 
Outstanding  Participants –
Dr. K.Vijay Kumar, Central Directorate of Hindi, New Delhi.
Prof. Shashi Mudiraj & Prof. R.S.Surraju, University of Hyderabad, Hyderabad
Prof. P.Aadheswar Rao & Prof. K.S.Lakshmi, Andhra University, Visakhapatnam
Dr. G.Ramnarayana, Manager (OL) DCI, Visakhapatnam
Dr. Rajasekhar, Hindi Officer, Dredging Corporation of India, Visakhapatnam
---
Achievements of Faculty
VISITING PROFESSOR- ABROAD : has been selected as Visiting Professor to ICCR's Chair at the university of Sofia, Bulgaria by Indian council for cultural Relations  and Ministry of External Affairs for two academic years w.e.f Dec 2012, accordingly  she  joined as Visting professor  on 10.12.2012. She has successfully completed  her  term n rejoined SJC in July 2014.
Participating in 'VISHWA HINDI DIVAS' in university of Sofia, Bulgaria. Presenting poem on Indo- Bulgarian relations.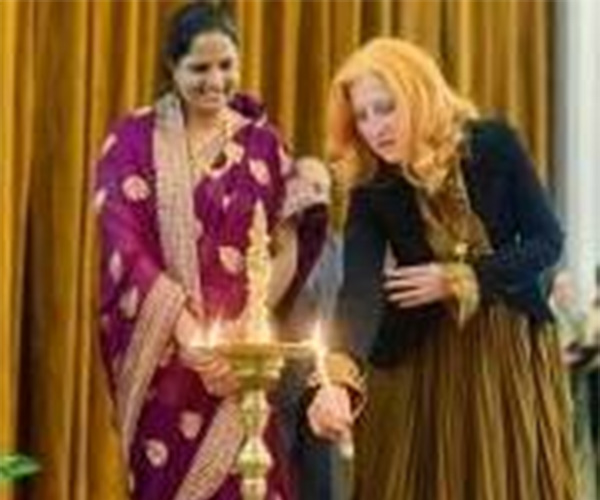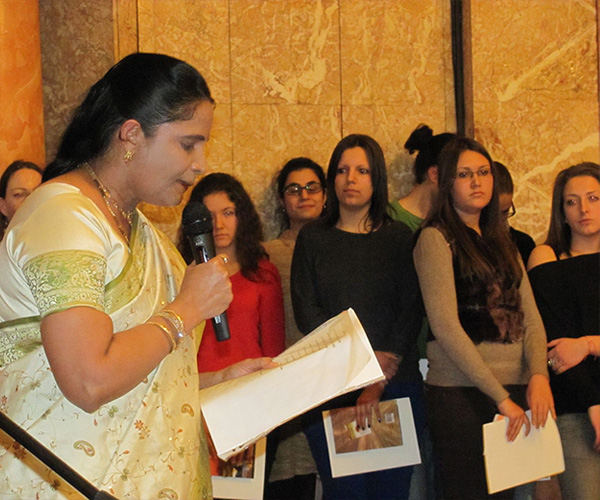 ---
INDOLOGY ACTIVITIES (2012-2014)
UGC Research projects: Dr.P.K.Jayalakshmi is actively involved in research.
a.) Minor Research project  entitled "Problem Play in Hindi: Experiment andAchievement"-08
b.) Major Research project  entitled 'SATTHOTTAR HINDI TATHA TELUGU NATAK AURRANGMANCH: PASCHATYAKA PRABHAVAUR PRAYOG' in March2013. sponsored by UGC, NEW DELHI 
PUBLICATIONS andRelease of BOOKS:
Dr. P.K. Jaya Lakshmi, Head of the Dept., authored and published 4 Hindi (with ISBN) and 4 Telugu literary books and 123 articles in various magazines  and Journals and edited I Degree Hindi Textbook.
Telugu  (MANASWINI)  by Prof. G.S.N. RAJU Vice Chancellor, AU
Hindi  (SAPTAK TRIYA MEIN ADHUNIKTA) by Prof.V. Balamohan Das Former VC, ANU
Hindi Text  (PADYA GADYA SANCHAY) by Dr. Sr. Shyji P.D, Principal SJC
SEMINARS:
Dr. P.K. Jaya Lakshmi attended 42 UGC  National seminars 4 International seminars and presented papers.
RESEARCH GUIDANCE:
Dr. P.K. Jayalakshmi is recognised as Research guide: 6 scholars were awarded with M.Phil, under her guidance through  Madurai kamaraj University, S.V.University, Dakshin Bharat Hindi Pracharasabha
UGC WORKSHOP CONDUCTED:
Dr. P.K. Jaya Lakshmi conducted a two day UGC National  Workshop in Hindion the topic "Teaching- Learning Hindi in South India:  Problems and Perspectives" in collobaration with  Dakshin BharateeyRajabhasha Sansthan  in January, 2011.  
Co-ordinator IGNOU convergence, SJC-
Dr. P. K. Jayalakshmi constantly motivates students to take up job oriented certificate, diploma, degree and PG courses. Most of the students are benifitted with IGNOU.
Dr. P. K. Jayalakshmi is an active litterateur.
She actively participates in various literary organizations,kavi sammelans, ashtavadhanams, interactive Radio, F.M, Gnanavani programmes. She also reviews novels, stories and poetry.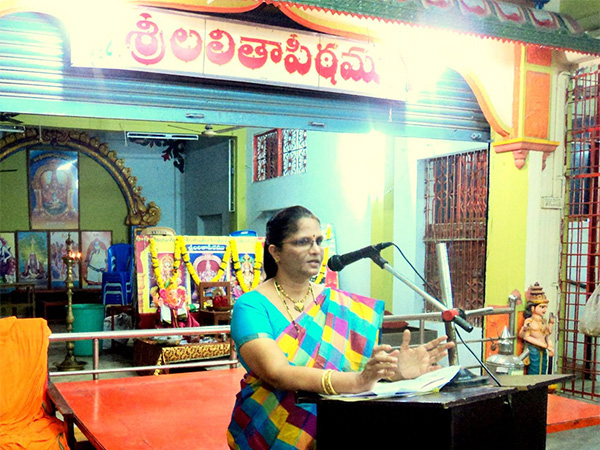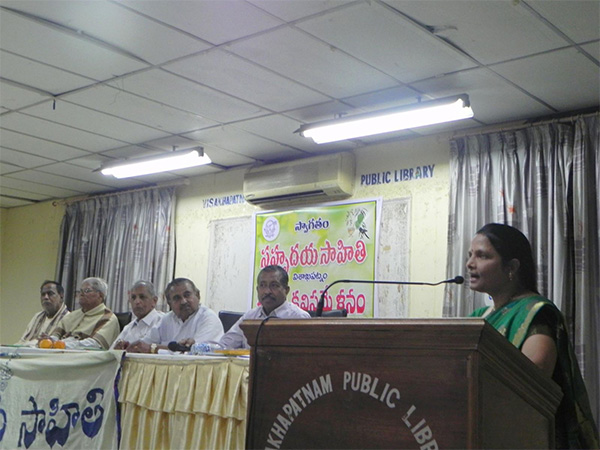 ---
All India Radio Programmes:
She delivers talks on several literary trends in Hindi and Telugu  which are broad cast through ALL INDIA RADIO  Visakhapatnam 
Resource Person:
She has been invited as Resource person to various Degree colleges, Banks, Public sectors and Central Government Organizations in and around visakhapatnam.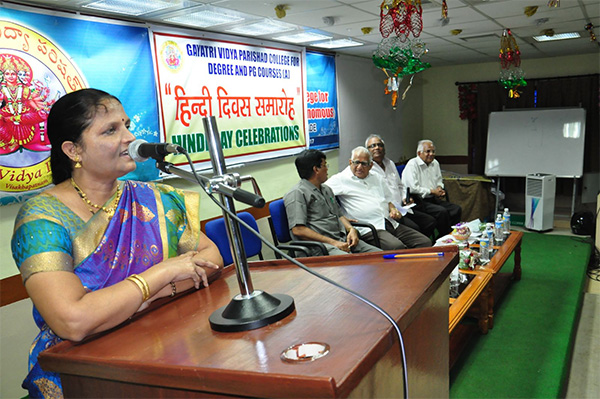 HIGHLIGHTS OF THE HINDI DEPARTMENT
HINDI-SAPTAH is a significant feature in SJC. 
A week long competitions are being conducted to identify and appreciate the creative talents of students. They are given opportunity to conduct  the competitions and organize  the Hindi-function.  Students prove their leadership qualities and communication  and organizing skills very effectively.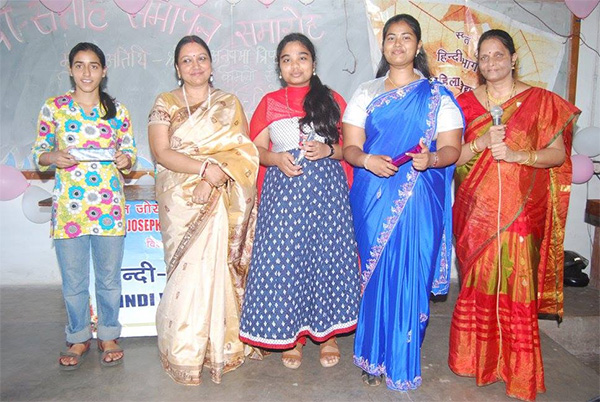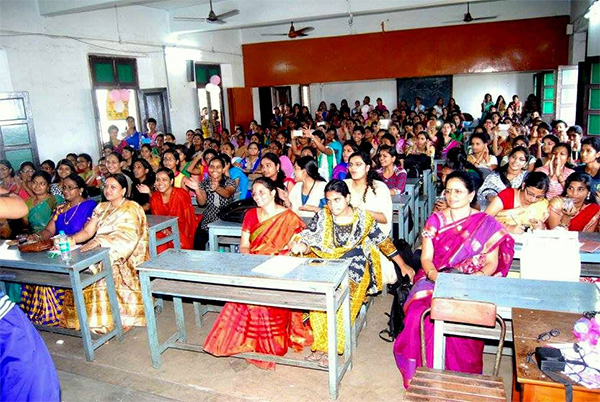 ---
PRATIBHA, annual magazine 
To showcase the creative talets of the students Hindi department has been publishing PRATIBHA since 10 years. Students contribute articles, poems, shayeris, jokes, riddles and shortstories.
Awards & Felicitations
Dr. P.K. Jayalakshmi was felicitated for her academic and literary contributions by-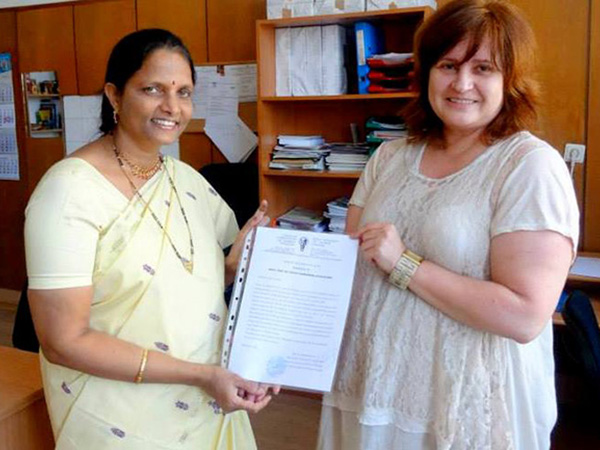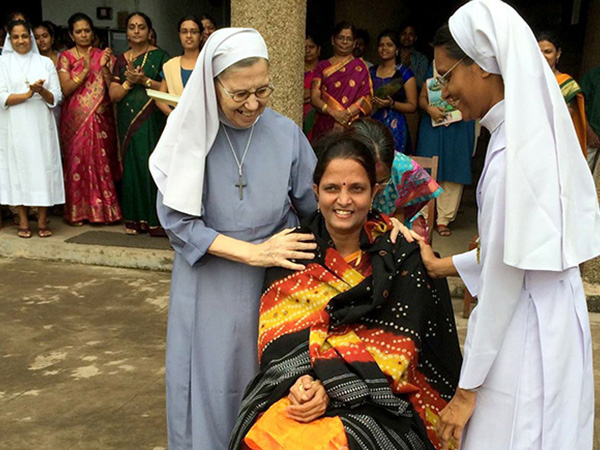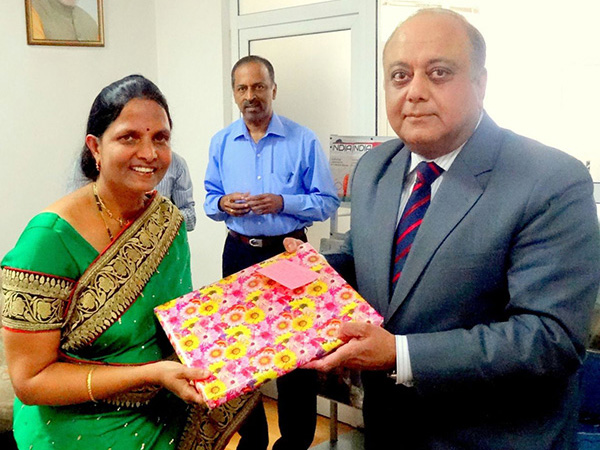 ---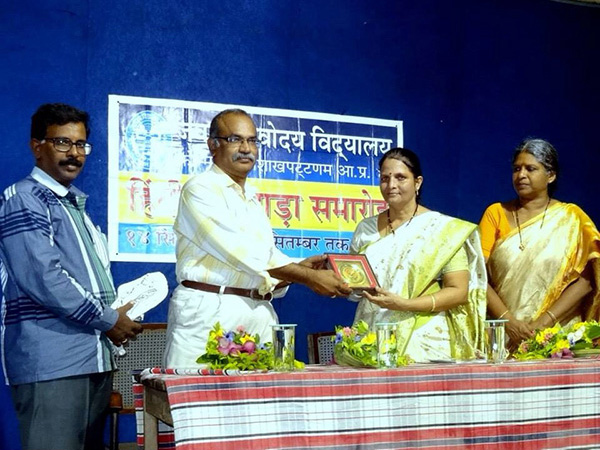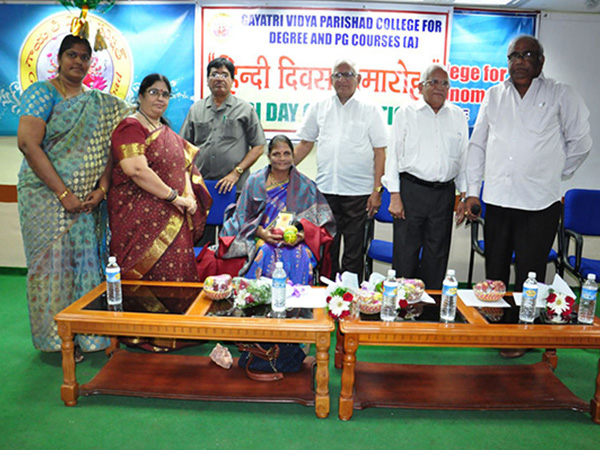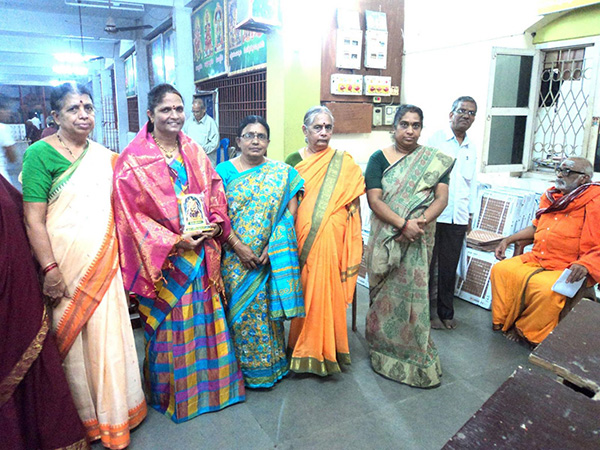 ---
Kosana Cultural Trust ( March 2010)
PACT (Feb.2010)
Lalitha Peetham (Oct.2009)
Dakshin Bharateeya Rajbhasha Samsthan (Nov.'09)
Visakha Sahithi (Sep 2009)
Recieved "Certificate of commendation" from SOFIA University Bulgaria (July,14)
Recieved "BEST TEACHER" award(Sr. St. Andre) (Sep.14) from SJC.
Recieved "UGADI PURASKARAM"  (Mar 2015) from Govt of A.P.
Felicitated by "Sri Lalitha Peetham " (Aug 2015).
Felicitated by"Jawahar Navodaya" (Sep 2015).
Felicitated by "GVP Degree college" (Sep 2015).
NATIONAL SEMINAR CO- ORDINATOR
TWO DAY NATIONAL HINDI SEMINAR on "Human Relations in Contemporary Hindi Literature" on 22 & 23 Jan 2016.
Book Release - Hindi Text release by RJD n Principal edited by the Faculty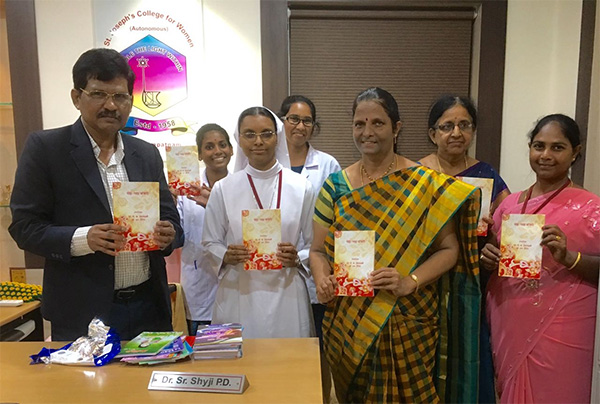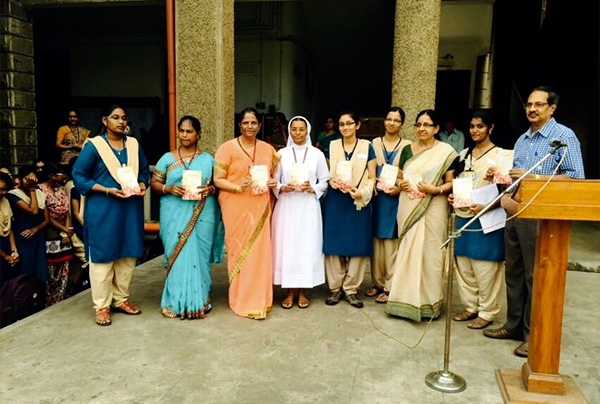 ---
State Best Teacher Award- 7th September 2016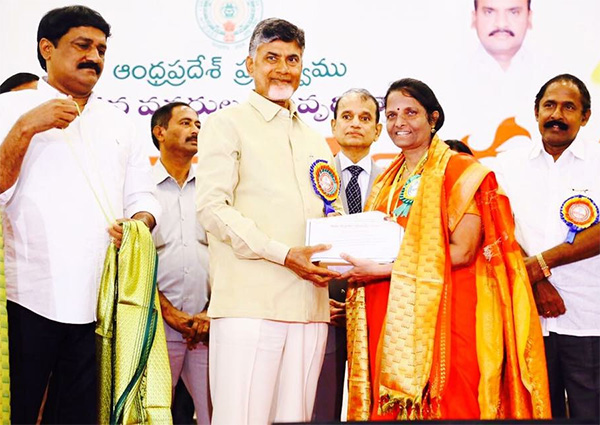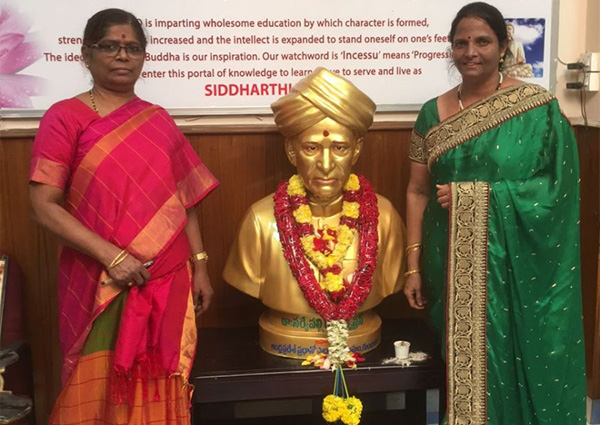 ---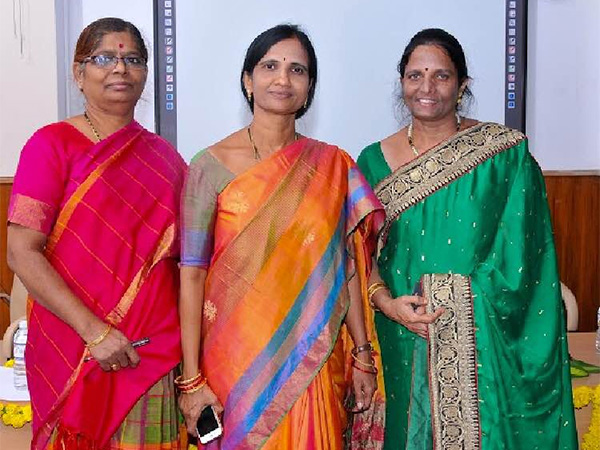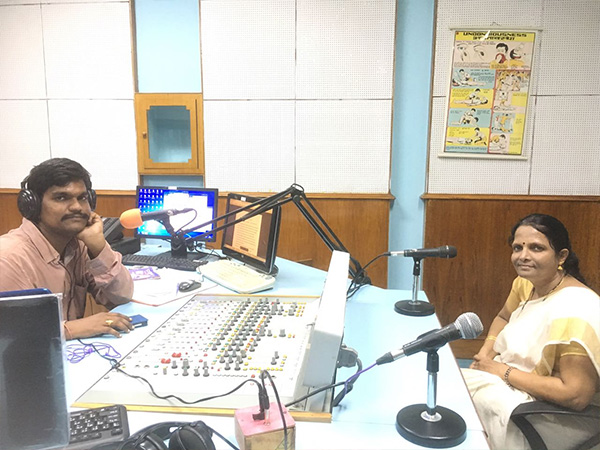 ---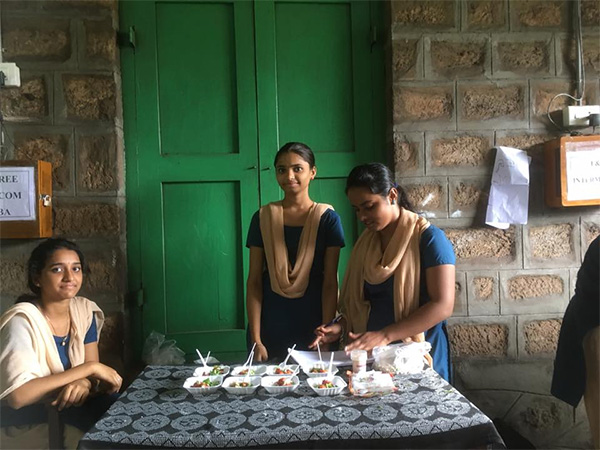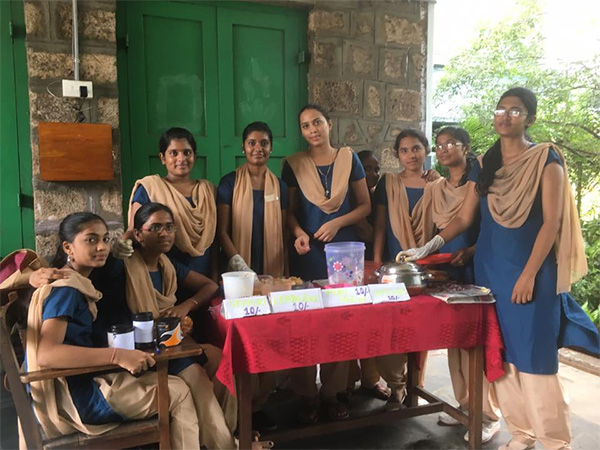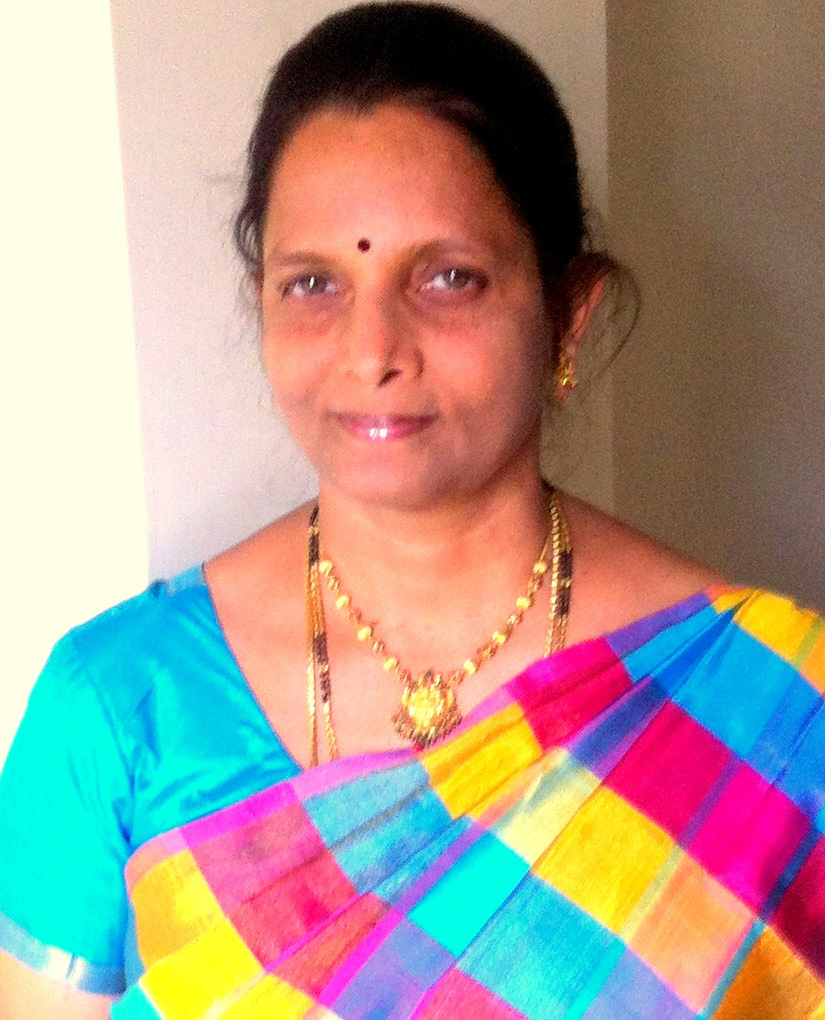 Dr. P. K. JAYALAKSHMI, M.A, Ph.D.
Head of the Department
---